Vivid Sydney 2020
In its relatively short lifespan of just over ten years, Vivid has become the biggest event in Australia. And the ten-year anniversary of Vivid Sydney 2020 is set to be a cracker as the festival of light, music and ideas is expected to draw 2.5 million + people! That's the population of Brisbane coming to Sydney Harbour's foreshore. So, this means people. Lots of people. But this doesn't mean you have to deal with the crowds to experience Vivid. In fact, the best way to appreciate Vivid in all its glory is from afar on your own little piece of floating paradise… Okay, it's just a boat, but it's a seriously nice one – Our luxury catamaran the Harbour Spirit.  In this post, I will explain 6 reasons why Sydney Vivid 2020 is best experienced on a Harbour Cruise.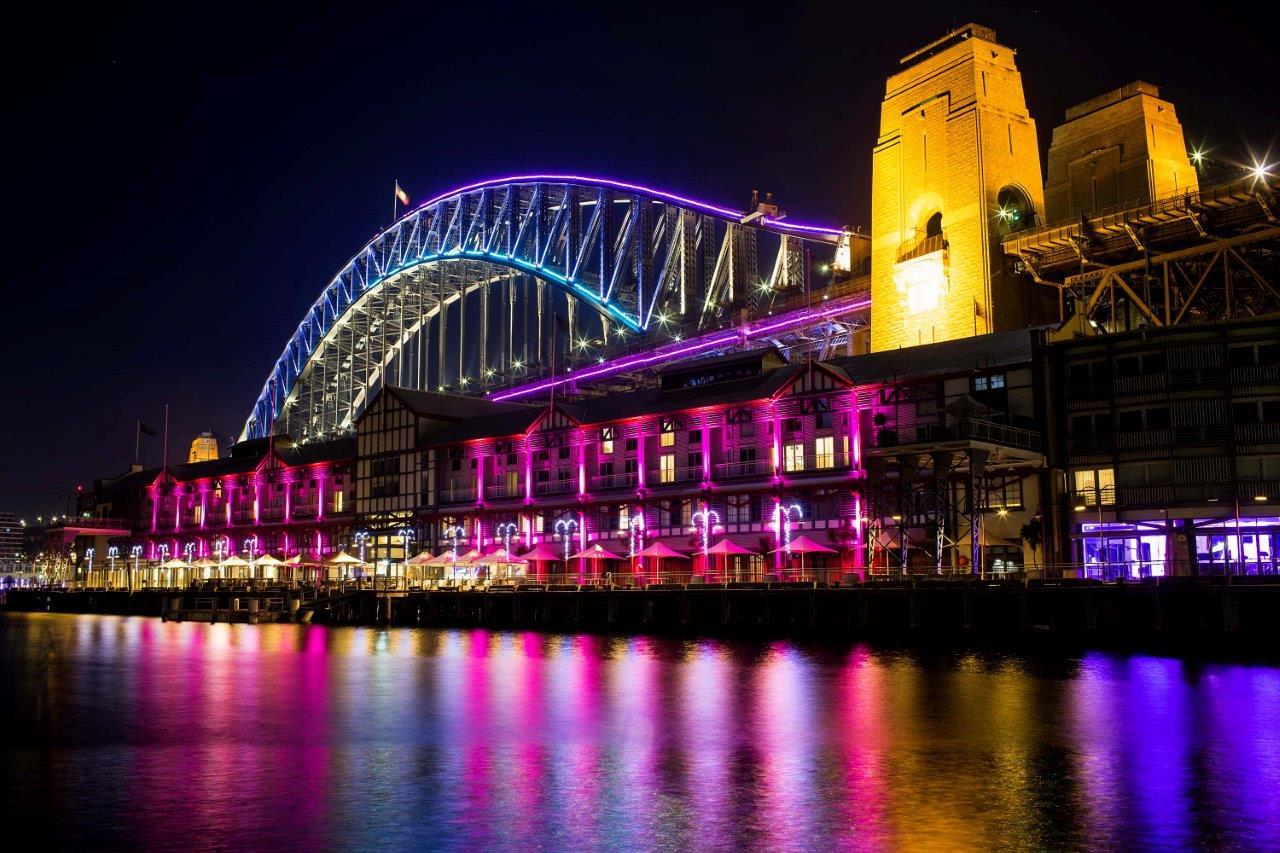 1. Avoid the crowds at Vivid Sydney 2020
As amazing as Vivid is, it has become a colossal event that attracts millions of people from all over Australia and even the world.  At times and in certain areas the human traffic can be overwhelming. So, if you'd rather avoid the throngs of people, a harbour cruise could be just for you. A good Vivid Cruise restricts the number of people on board, so everyone can enjoy the show in comfort. Watch the crowds from afar from your own little deck space of tranquillity where you easily sit with a glass of champagne and canopies while you soak up the atmosphere. Vivid is an experience you should be able to kick-back, relax and enjoy, not fight for space with the thousands of other people stifling your mojo.
2. Uninterrupted views for the best photo opportunities
The laser shows to projected onto the sides of buildings and iconic landmarks for Vivid Sydney 2020 will be nothing short of spectacular. But on the ground up close not only are you able to appreciate the ever-changing light sequences, you are bound to blocked and fighting for space among the thousands of other visitors competing for that perfect "Insta-worthy" photo. In fact, the light shows are best seen from a distance, especially the projections close to the harbour; The piece de resistance being the Sydney Opera House. But perhaps the best reason for taking in the light shows from a boat, in my opinion, is the multi-coloured lights reflecting off the water of the harbour. This adds another element to the magical atmosphere of the event and makes that photo twice as "Insta-worthy".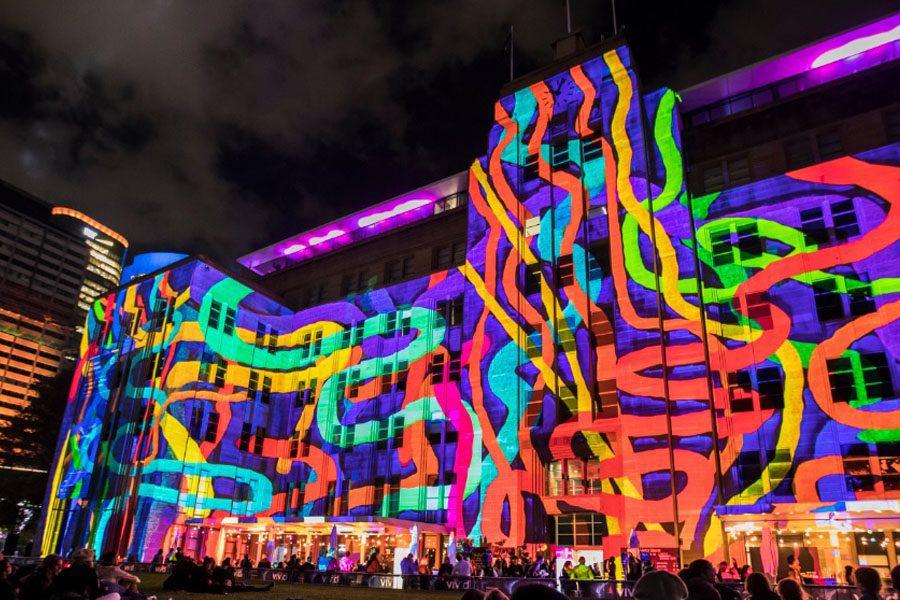 3. No queues for food or drink
With the crowds come the queues. And let's face it, no one likes to queue. But we all have to eat and perhaps enjoy a drink or two. Yet by the time you receive your food and drinks from the many crowded bars and restaurants around the harbour the lights might be out! Furthermore, you will struggle to find some space to eat in comfort. Not so on a harbour cruise.  Food is included in the package. Harbourside Cruises has a standing buffet and casual seating available as part of its incredibly great value $49 package.  The menu includes:
Oven Roasted Chicken, panko crumbed (gf)
Fettuccini Boscaiola, onion, bacon, parmesan & mushroom cream sauce
Mixed Oven Roasted Vegetables, potato, sweet potato, pumpkin, carrot (v)
Penne Pasta Siciliana mediterranean vegetables tomato basil sauce (v)
Sliced Chorizo sausage with seasoned rice
Moroccan Salad, corn, beans, cherry tomatoes & zesty dressing (v)
Traditional Coleslaw (v)
Greek Salad, tomato, cucumber, capsicum, onion, feta, Evo & lemon dressing (v)
Anti Pasto Platters, gherkins, artichoke, sun dried tomato, olives & cheeses v)
Cold Meat Platters, ham, Danish salami, silverside
Bakers Bread Basket
* Seasonal items subject to change. Special dietary requirements cannot be catered for.
And all this plus a complimentary drink on arrival. I know which I'd choose!
4. Be social… or not
Being on harbour cruise for Vivid Sydney 2020 does not just offer you a chance to experience the event with your friends and family but affords you the opportunity to meet and mingle with other like-minded guests. Something about being on a boat with other people brings you together. After all, you're all in the same boat! But you also have the freedom of choice to find yourself a nice quiet spot and enjoy the experience privately with your loved ones.
5. Party down and dance to the onboard DJ
Having your own DJ on board your cruise is definitely a big bonus in our books. If you are one to be social, then why not take it a step further and tear up the dance floor. There's something about boogieing on a boat that affords you to dance like no one is watching. It's like you're on your own private island to dance your night away. But if dancing's not your thing, then the cool tunes will only add to the awesome atmosphere of experiencing the Vivid Sydney 2020 light spectacular on one of our Vivid Cruises on Sydney Harbour.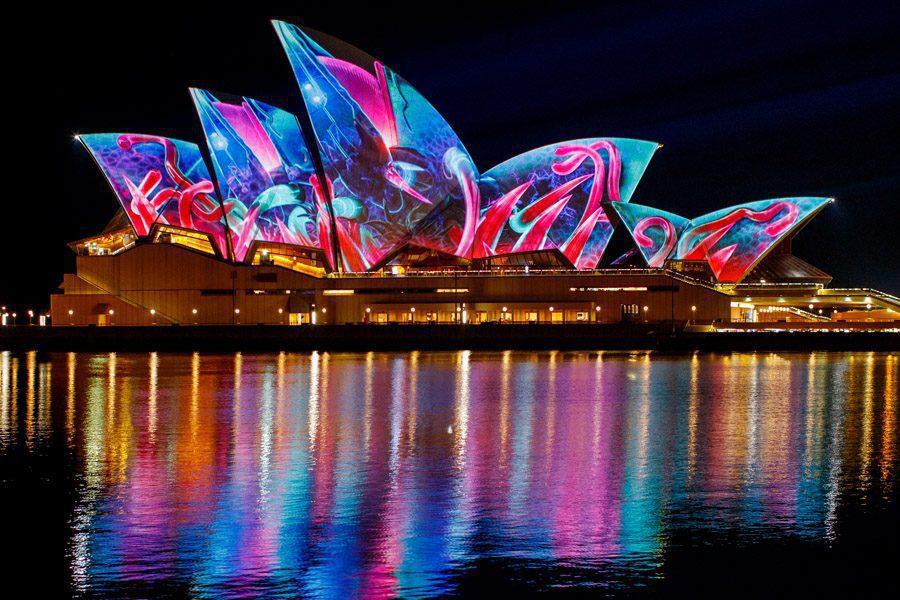 6. See the whole event in two hours
Vivid Sydney 2020 is set to be the biggest year yet. As Vivid's popularity has grown, so has the festival itself. No longer is Vivid constrained to Circular Quay and The Opera House. The festival now stretches from Barangaroo in Darling Harbour, around the Harbour Bridge, The Rocks, Luna Park and even Taronga Zoo. To try and cover this all by foot would take you at least a whole day. But on a Harbourside Cruise, which departs from Darling Harbour, you are guaranteed to see all this is just two hours!
So, there you have it. Six reasons why you should spend Vivid Sydney 2020 on a harbour cruise.  And you can have all of the above for an amazing value package deal from $49 if you book through Harbourside Cruises. That includes:
2 Hour Sydney Harbour Vivid Sydney Cruise
Delicious Buffet ( Selection of Hot Dishes & Salads)
Professional Dj playing your favourite tunes
Complimentary Glass of Wine, Beer or Soft Drink on arrival
Cruise on Harbour Spirit a Luxury Catamaran
Spacious indoor & outdoor decks for Harbour Viewing
To find out more and reserve your spot enquire here today.