Charter Cruises Buffet Menu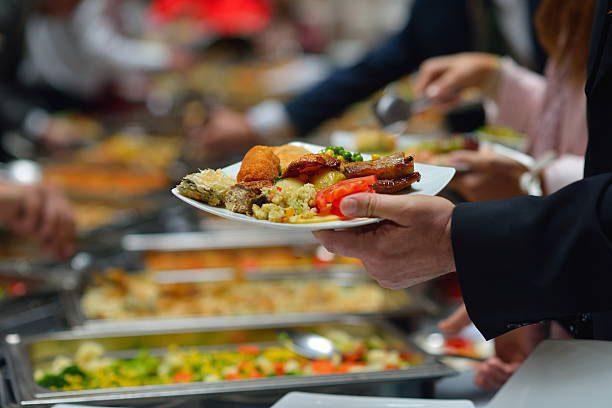 HARBOUR BUFFET
We offer a choice of buffet menus items with a delectable spread of seafood, hot & cold dishes, salads & desserts, freshly prepared on-board.
Sample menu options below ( menu's tailored from choices below)
Fresh prawns with lemon cocktail sauce
Slow oven roasted beef slices, champignon mushroom sauce
Slow roasted pork with apple sauce
Oven Roasted chicken, panko crumbed
Steamed Whole Atlantic Salmon, honey mustard & parsley sauce
Barramundi on ratatouille garnish
Fettuccini Boscaiola with shaved parmesan cheese
Fettuccini chicken pesto, creamy sauce, parmesan cheese, sun dried tomato, basil
Penne Pasta Siciliana Roasted Mediterranean Vegetables, tomato basil sauce
Eggplant melanzane with parmigiana
Hokkein noodles with vegetables, honey soy & sweet chilli (v)
Potato Au Gratin thinly sliced potato layers, parmesan crusted
Mixed oven roasted vegetables, potatoes, sweet potato, pumpkin, carrots
Mussels and calamari with a tomato basil sauce
Caprese style pasta with rocket, olives & cherry tomatoes(v)
Seafood Salad, mesclun, prawns, celery, capers, mayo dressing
Classic Caesar Salad
Greek Salad with feta & lemon balsamic glaze (v)
Garden Salad, tomato, cucumber, onion, feta & balsamic dressing
Baby beetroot & goat cheese salad (v)
Pumpkin Baby Spinach Salad, feta cheese, pumpkin seed, lemon olive oil dressing(v)
Potato salad with wholegrain mustard and crème fraiche (v)
Antipasto platter, gherkins, artichoke, sun dried tomato, olives & cheeses
Cold meat platters include prosciutto, salami, ham
Bread rolls
Dessert
Chocolate Craving Cake with Cream
Baked Cheesecake
Cannoli, vanilla, chocolate, ricotta
Chocolate mousse cups
Tiramisu
Seasonal fruit platters
*Sample menu tailored to your function. Menu items subject to change based on seasonal availability
Menu may be subject to slight seasonal changes.
Requests for dietary (dairy -free, gluten-free, nut-free,) substitutions and menu modifications will be politely declined. Our cruises have some vegetarian and gluten free menu options. We cannot guarantee that certain products or ingredients will not contain or come in contact with common allergens in our food such as dairy, eggs, wheat, soybeans, tree nuts, peanuts, fish, shellfish, or wheat.
We explicitly accept no liability in this regard. For serious food intolerances or allergies, you must make your own decisions when selecting meals.