Standing Buffet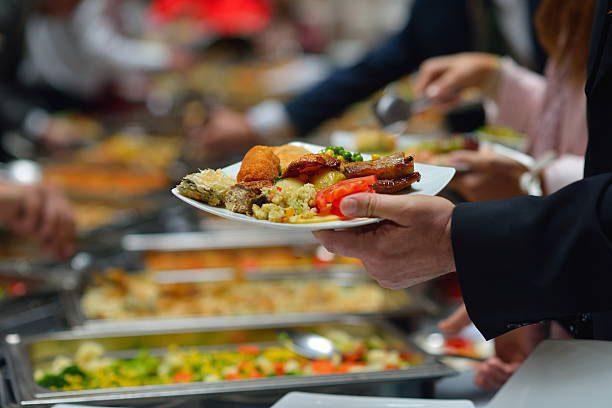 STANDING BUFFET
Standing Buffet or Seated Buffet
Canapes Served on arrival
Spring Rolls, sweet chilli sauce (v)
Selection of savoury pastries including vegetarian options
Hot Served Buffet includes
Barramundi Fish pieces, Ratatouille (gf)
Oven Roasted Chicken, panko crumbed (gf)
Chicken stir fry, Thai sauce, tossed vegetables, Singapore noodles
Lasagne Beef, mozzarella, bechamel, napoletana sauce & mixed salad
Mixed Oven roasted vegetables, potato, sweet potato, pumpkin, carrot (v) (gf)
Seafood & Salad Served Buffet includes
Fresh King Prawns with lemon cocktail sauce
Pumpkin, sweet potato, baby spinach salad, tangy lemon & olive oil dressing (v)
Greek Salad, tomato, cucumber, capsicum, onion, feta, balsamic glaze (v)
Creamy potato salad, mayo dressing (v)
Antipasto Platter cold meats, gherkins, artichoke, sun dried tomato, olives & cheese
Dessert Served Buffet includes
Chocolate Mousse cups
Fruit Salad seasonal fresh fruit cups (v)Note: Menu subject to slight seasonal changes
Menu may be subject to slight seasonal changes.
Requests for dietary (dairy -free, gluten-free, nut-free,) substitutions and menu modifications will be politely declined. Our cruises have some vegetarian and gluten free menu options. We cannot guarantee that certain products or ingredients will not contain or come in contact with common allergens in our food such as dairy, eggs, wheat, soybeans, tree nuts, peanuts, fish, shellfish, or wheat.
We explicitly accept no liability in this regard. For serious food intolerances or allergies, you must make your own decisions when selecting meals.