Food Station Menus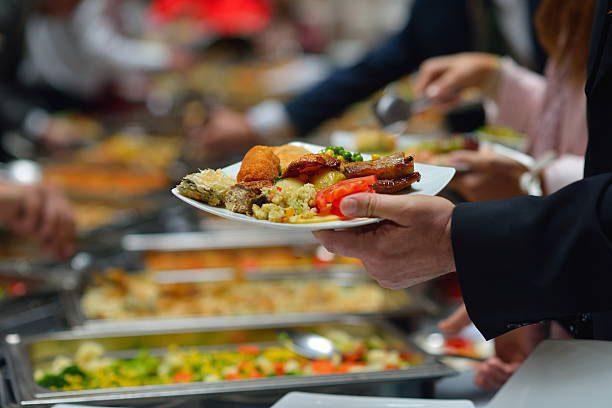 Food Station Menus – Canapes & your choice of 2 Food Stations:
CANAPES
Salt and pepper prawns
Golden- fried fish fingers
Vegetarian samosas (v)
Petite assorted gourmet quiches
FOOD STATION 1 (Anti – Pasto)
Freshly honey-baked ham sliced
Assorted selection of cured meats & Antipasto appetisers
Grilled chorizo with pita bread & hummus
Orecchiette with pesto & pine nuts
FOOD STATION 2 (Western)
Mini beef medallions & potato gratin
Sliced Chicken breast with slivered asparagus & sweet corn
Panko-crusted barramundi fillets
Oven Roasted vegetables seasoned with rock salt
FOOD STATION 3 (Oriental)
Hokkein noodles with vegetables, honey soy & sweet chilli (v)
Thai green fish curry & jasmine rice
Butter chicken in a mildly spiced curry sauce
Wok stir fried vegetarian rice
FOOD STATION 4 (Salad Bar)
Potato salad with wholegrain mustard and crème fraiche (v)
Baby beetroot & goat cheese salad (v)
Greek Salad with feta & lemon balsamic glaze (v)
Caprese style pasta with rocket, olives & cherry tomatoes(v)
Classic Caesar Salad
FOOD STATION 5 (Dessert & Cheese Bar)
Chocolate craving cake
Baked cheesecake
Carrot cake
Selection of cheese, favourite dips, crackers & condiments
* Additional Food Stations can be added to your package for an extra fee.
Menu may be subject to slight seasonal changes.
Requests for dietary (dairy -free, gluten-free, nut-free,) substitutions and menu modifications will be politely declined. Our cruises have some vegetarian and gluten free menu options. We cannot guarantee that certain products or ingredients will not contain or come in contact with common allergens in our food such as dairy, eggs, wheat, soybeans, tree nuts, peanuts, fish, shellfish, or wheat.
We explicitly accept no liability in this regard. For serious food intolerances or allergies, you must make your own decisions when selecting meals.