Vivid Dinner Cruise Sydney
Vivid Dinner Cruise Sydney
Experience the best views of Vivid with no crowds.
Vivid Sydney Harbour Cruises are an impressive way to experience the 23 day Vivid Sydney 2022 festival of light. Watch the Sydney Opera House be transformed into a spectacular illuminated light show. Vivid Sydney Light 2022 is Australia's major event and is recognised as the largest event of it kind in the world combining light music & Ideas.
Vivid Dinner Cruise Sydney
Vivid Dinner Cruise Sydney
It's Vivid time again in Sydney and here's a Harbourside Cruises Vivid super saver cruise offer you simply can't say no to. Here's a chance to take in the delights of the Vivid Lights Festival from the decks of this luxury catamaran as you cruise the Circular Quay precinct under the Harbour Bridge and around the Opera House at a very affordable cost. Enjoy delicious more substantial standing Buffet spread to see you through the night. Cruise past Sydney icons such as the Sydney Opera House, Harbour Bridge, Luna Park and more aboard our luxury air-conditioned catamaran the Harbour Spirit.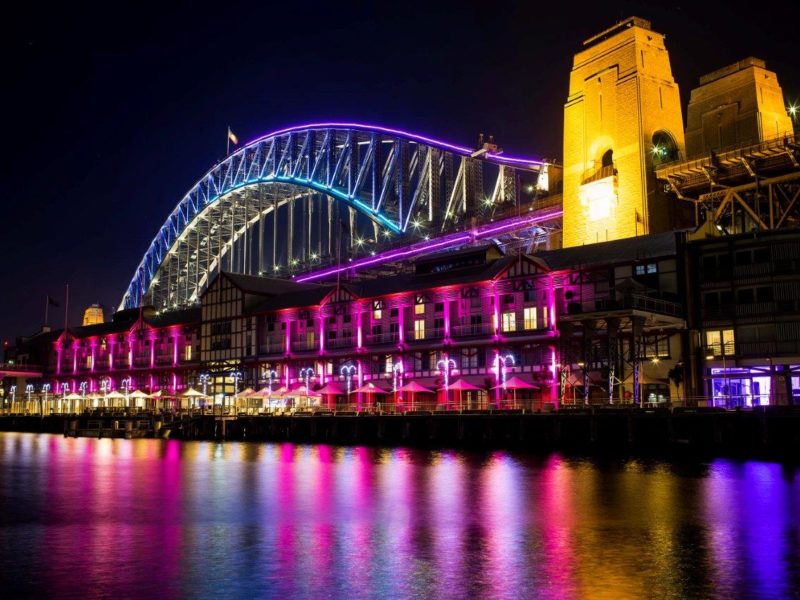 A LIGHT FESTIVAL THAT ILLUMINATES THE CITY
Vivid Dinner Cruise Sydney
Vivid Sydney is an annual lights festival that illuminates the city with a dazzling spectacle of colour, music and creativity. For locals as well as tourists it's quite a marvel to witness the spectacular transformation of Sydney Harbour into a glittering haven of extravagant lights. The Vivid Lights Festival 2022 is something that must be seen and experienced by all, which is why we've tailored this cost-effective value package that offers a Vivid Sydney cruise to enjoy premium views, photo opportunities galore and a complimentary welcome drink. The light projections on the sails of the Sydney Opera House is one of Vivid's most iconic events. This magnificent piece of architecture comes alive with the most amazing three-dimensional light displays and is guaranteed to take your breath away.
Vivid Dinner Cruise Sydney